Application Engineer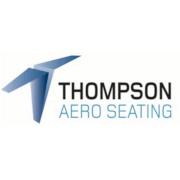 Employer Information
Thompson Aero Seating Limited
E: careers@thompsonaero.com
T: +44 (0) 28 3833 4000
Thompson Aero Seating is one of the leading suppliers of Business and First-Class aircraft seating, with a worldwide customer base and an increasing and expanding market share and product portfolio. It's an exciting time to join our business as we implement our 5-year growth plan and as such, we are hiring an Application Engineer to join our specialist IT Team.
This is a newly created position where the successful candidate will be part of an expanding Business Systems team and will be responsible for the support, configuration, administration and continuous improvement of business applications and processes. The role will involve working with various areas of the business and using as-is to be process mapping, you will help identify gaps in our current processes. These will then be broken down into projects to investigate systems integration and what stop gap and long-term systems can be put into place. In addition, you will also be involved in new system implementations and business process reengineering.
The successful candidate will be required to:
​​​​​​​Participate in the development and documentation of operational standards and procedures in relation to application services
Liaise with all sections of the business to ensure the provision of a fully integrated, efficient, effective, and customer focused applications service
Proactively monitoring and managing performance of business systems and using trend analysis in order to prevent business affecting problems arising
Participate in the provision of technical expertise in the specification, procurement, and implementation of application related products, systems and services for the organisation to function efficiently.
Communicate with stakeholders regarding change management, system performance, and business needs in order to maintain relationships and provide an effective service to ensure continuous improvement
These responsibilities will cover a range of software, predominately Catia 3DExperience, 123 MRP and Microsoft 365.
Reward
In addition to an exciting progressive career with our global organisation, you can expect a lucrative salary, pension, generous 33 days holiday entitlement and continuing professional development opportunities as we continue our commitment towards investing in our staff for the future.
Requirements
The ideal candidate will hold a Degree in a technical related subject or equivalent professional experience, have strong planning and organisational skills with an ability to deliver quickly and effectively to tight deadlines, excellent investigative and problem-solving skills as well as oral and written communication skills. The successful candidate will also have confidence in dealing with a wide range of people, be a team player, be proficient in MS Office applications and show great attention to detail with superior time and project management skills.
Click "apply" or contact our HR team; careers@thompsonaero.com to hear more about the position.
Thompson Aero Seating reserve the right to enhance criteria in order to facilitate the shortlisting process. Applicants should demonstrate how they meet the requirements outlined.
Thompson Aero Seating is an equal opportunities employer.

---