Care Workers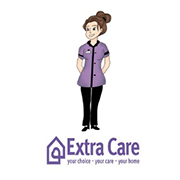 Employer Information
Extra Care
E: getgotsupport@hallmarksolutions.co.uk
T: 028 9448 2939
Current Full and Part Time Vacancies exist in :
Antrim,
Ballyclare,
Ballymena,
Belfast,
Carrickfergus,
Cookstown,
Larne,
Magherafelt,
Newry (Mobile Night Run)
Newtownabbey
Whitehead.
​​​​​​​
Key Responsibilities of the job: As A Care Worker I will: –
​​​​​​​
• Meet the needs of Service Users across Northern Ireland as directed by Extra Care
• At all times work in accordance with Extra Care Policies and Procedures.
• At all times work in accordance with the Standards of Conduct and Practice for Social Care Workers as laid down by Northern Ireland Social Care Council.
• At all times comply with and promote the Purpose, Vision and Values of Extra Care.
• Encourage and promote Service User independence, giving choice and upholding individual rights and dignity.
• Understand the needs of vulnerable service users and that there will be a requirement that I will have to be available at varying times, which includes early morning and late evening work. I will be required to work weekends and bank holidays.
• Complete all hours and tasks as allocated on my rota across all shifts and ensure they are conducted in accordance with the time allocated and tasks as detailed in the Care Plan.
• Promote safe practice at all times and ensure that all equipment provided is used for its intended purpose and in accordance with training, Risk Assessments and Extra Care Policies and Procedures.
• Assist Service Users to carry out self-care tasks including getting in and out of bed, washing, dressing, showering, oral hygiene, continence care, catheter and stoma care.
• Prompt, remind or administer medication as appropriate.
• Provide a sitting service for a period of time to carry out tasks and provide company to the Service User.
• Prepare and provide meals and drinks in accordance with Care Plan.
• Complete good quality and accurate records in accordance with Extra Care`s Policies and Procedures.
• Report any accidents/incidents accurately and in a timely manner.
• Report immediately if access has not been gained to a Service User's call
• Report and record any concerns or changes regarding the wellbeing of a Service User in a timely manner.
• Treat all information regarding colleagues, Service Users and their families, which may be gained in the course of the role, with respect and in a confidential manner.
• Participate in formal, informal, individual and group supervisions/meetings as required.
• Participate in training as required.
• Ensure NISCC Registration is maintained.
Benefits of working for Extra Care:
• Competitive Hourly Rate of Pay
• Enhanced Bank Holiday Pay Rate
• Paid Induction Training and regular updates.
• Career development opportunities.
• Full support from office staff and access to an on-call service for emergency situations out of hours.
• Workplace Pension scheme.
• 5.6 weeks paid holiday per annum.
• Regular supervisions and appraisals.
• Free uniform and protective equipment provided.
​​​​​​​• Refer a Friend Scheme
---