IT Technical Officer (3 posts)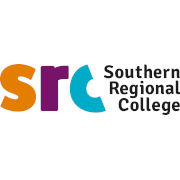 Employer Information
Southern Regional College
E: recruitment@src.ac.uk
T: 028 30259785
The successful post-holders will be responsible for the provision of a range of high quality responsive support services, delivering an excellent customer focused ICT support service via the helpdesk or direct engagement to students and staff throughout the College's Educational, and Business Sections both onsite and remotely, to advise, guide, resolve issues.
The successful post-holders will maintain Endpoints and associated Software and Peripherals for areas Identified for them. They will also work as part of an IT Services Team in the Support and Monitoring of allocated ICT Systems and Services College wide.
This advertisement is for 3 full time, permanent positions with one based in Newry, one in Portadown and one in our Armagh Campus. (there will be a requirement to travel to other campuses). Closing date for applications is Friday 28th January at 12pm.
​​​​​​​​​​​​​​Please note all correspondence will be sent from recruitment@src.ac.uk. Please check your mailbox including any spam folders regularly.
Permanent
Closing date: Friday 28 Jan 2022
Salary: £20493
Apply for job
---